Adaeze Yobo Shares Shocking Testimony As She Celebrates Her Daughter's Birthday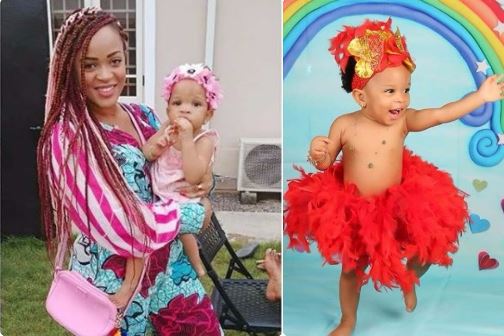 Former Most Beautiful Girl in Nigeria, Adaeze Yobo is celebrating her daughter's birthday today, the beautiful mother of 2 boys and a girl took shared beautiful pictures of her family to celebrate her daughter's birthday and also shared a powerful testimony behind the birth of her daughter.
Adaeze Yobo a photo and wrote,
Ist scan showed it was Fibroid, 2nd scan (diff. hospital) showed it was Fibroid and pregnancy but an incomplete abortion (whatever that means) but that I had to flush yu out, which I (thought) i did.
A week later, i still felt sick so I called the Dr. and I was scheduled to surgically complete removal of the remaining tissue.
On my way going, the holy spirit directed me to go to another hospital which I did and was told you were still inside and I had no Fibroid. instead of being happy, i cried and worried whether to keep you or not, worried if you will be normal after all the drugs n all. look at you now baby girl ? #lexineisonetoday ??

??#birthdaygirl
Pic by @M12photography
Outfit & Accessories by @mybabygirlng ??

She shared a photo with her husband and wrote,

I remember saying if it comes out a baby boy, I'll just adopt a girl.#ToGodbetheGlory
#lexineison ?

She shared another picture with the caption,

… i remember calling and pulling all types of stunts for them to move the date for my C-sec from 13th to 14th so you can be a Valentine baby but to no avail.

Adaeze also shared another birthday photo;

I can't keep calm, my baby girl will be ONE, in an hour ?#miraclebaby I have alot to be thankfull
Outfit by @mybabygirlng
Photograph by the amazing @m12photography

Ex-beauty queen, Adaeze Yobo and her retired footballer husband, Joseph Yobo, are celebrated their 8th wedding anniversary on January 1st. The proud parents of three beautiful kids got married on New Year's day, January 1st at about 3.30 a.m. at the Evangelical Bible Outreach Ministries International (EBOMI) Prayer City, Jos, Plateau State.