50 CENT Set To Produce Series On Hushpuppi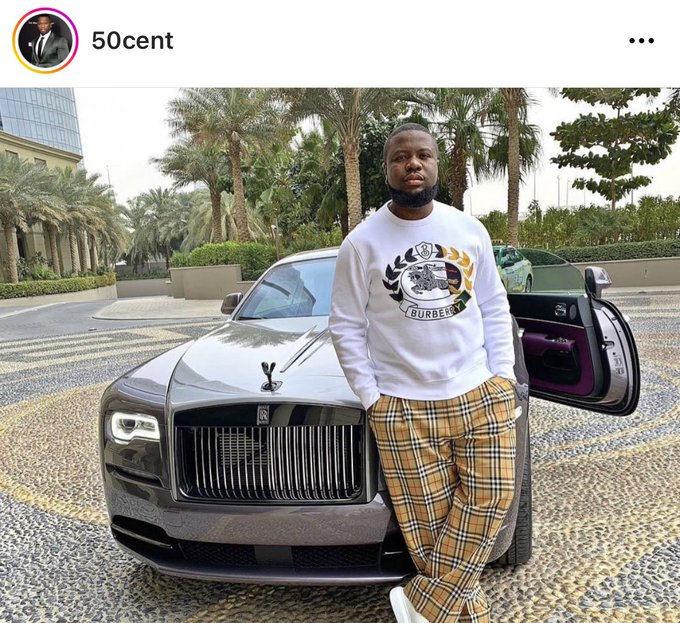 50 Cent and Hushpuppi, what could go wrong?
Curtis James Jackson III (50 Cent) may be known as a rapper, but these days, the 2010s children could be excused if their opinion was of the celebrity being a movie producer/actor, since he has produced and starred in quite some films and series.
The American rapper according to reports is set to partner Hushpuppi, 'ironically' to bring the famed scammers story to television.
Hushpuppi whose real name is Ramon Abbas has seen his story grow infamous after it was uncovered he dabbled in fraud deals and scams while promoting his brand on the internet.
On Wednesday, November 9, 2022, 50 Cent announced the news on his Instagram page, saying beside a picture of Hushpuppi, "For my scammers I gotta do this one, Hushpuppi series coming soon!"
The rights to the 2021 release of the Bloomberg article "The Fall of the Billionaire Gucci Master," about the Instagram influencer Hushpuppi, were purchased by Universal Pictures, Will Packer Productions, and Mo Abudu's EbonyLife before to the announcement of 50 Cent. The majority of Nigerians' responses to this action were negative.
The well-known Nigerian, already well-known for his extravagant lifestyle, gained even more attention after his arrest in Dubai, United Arab Emirates (UAE), in June 2020.
He was detained on many cybercrime-related offences before being extradited to the USA on charges of money laundering and computer fraud. Hushpuppi filed a guilty plea to charges of multi-million dollar fraud in April 2021, according to court papers published by the US Department of Justice (DoJ).
Hushpuppi pleaded guilty to one count of conspiracy to commit money laundering in April 2021, ten months after his arrest. The former Instagram influencer was sentenced by Judge Otis D. Wright II to 11 years in jail and a $1.7M payment to two fraud victims.
What's 50 cent doing 😂? pic.twitter.com/e0ZgtgG1Np

— Oyindamola🙄 (@dammiedammie35) November 9, 2022