2Baba and Blackface opt for out of court settlement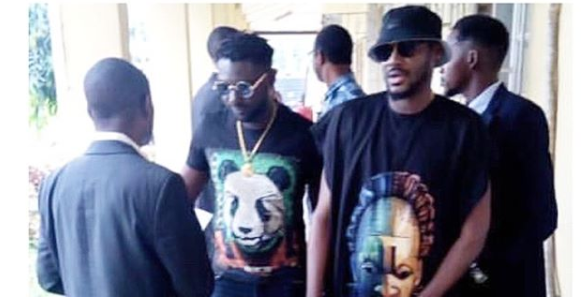 2Baba and Blackface are working to end their long-standing feud and have opted to settle their legal battle out of court.
On the 27th of November, 2Baba signed an undisclosed settlement agreement at the Ikeja High Court and reportedly dropped his N50m defamation lawsuit against Blackface, his bandmate at the defunct Plantashun Boyz.
Insiders, however, revealed that Blackface agreed not to publicly call out 2Face while the 'African Queen' crooner agreed to work out an agreement that will enable Blackface to earn royalties.
This came days after he dared Blackface to sue him if he has concrete evidence against him instead of engaging in a smear campaign.
Blackface who confirmed they were indeed in court today on Instagram, shared a photo with his lawyers.
He wrote "Earlier today @ the Ikeja high court with my #legalteam Thanks for una support and services, Details coming soon"
Leverage social media to make more money and grow your brand in 2019! Attend The Social Media Wealth Masterclass with Isaac Click here to ENROL NOW!
Follow us on Instagram
|
Advertise With Us
|
Send Us News Tips
|
Promote Your Music
Nigerians react to Netflix movie which portrays Jesus as gay
A Brazillian Netflix film about a gay Jesus has sparked a huge backlash with many Nigerians condemning the movie
The movie entitled 'The First Temptation of Christ' is a 46-minute comedy flick showing Jesus as a closeted homosexual.
It sees Jesus and a 'friend' named Orlando arriving at Mary and Joseph's house for a birthday party. Jesus tries to downplay their relationship, while Orlando hints that they're more than friends.
The Netflix description reads:
"Jesus, who's hitting the big 3-0, brings a surprise guest to meet the family. A Christmas special so wrong, it must be from comedians Porta dos Fundos."
The movie has sparked annoyance among Christians from all over the world including Nigeria — with millions around the world signing a petition for Netflix to bring it down and tender an apology to all Christians.
Taking twitter on Sunday, many Nigerians on the platform kicked against the movie, describing it as disrespectful.
See some reactions below
Netflix releasing a Movie that portrayed Jesus as gay is far too reaching and disrespectful, it's cool to be whatever you want, but don't try and rub it on people's faces, respect other people's beliefs too.

Jesus was never gay, stop forcing it!!!

— Obi Of Onitsha🇨🇦 (@cliqik) December 15, 2019
BREAKING:@netflix released a show depicting Jesus as GAY?!

Let's make this CLEAR!

Jesus isn't some "woke" culture experiment for you to convince young people that biblical teachings are "debatable"?!

Jesus is the SON OF GOD and died for our sins!

Show some RESPECT!!!

RT!

— Adetutu Balogun (Ezi Ada 1 of Diaspora) (@Tutsy22) December 15, 2019
So @netflix wakes up to paint Jesus Christ as "drunk" and as "gay" in a new movie. This is NOT "woke", this is insanity.

The disgusting thing about these insane liberals is their complete inability to know when to draw the line.

I hope they never make a movie with Allah as gay.

— OurFavOnlineDoctor 💘 🥳 (@DrOlufunmilayo) December 15, 2019
I doubt Jesus Christ is concerned on how they portray him. We are talking about the King of kings.

A lot of opinions from mere earthlings will not bother you when you're the Lord of lords.

Jesus does not need me to fight his fight either.

— Olóyè (@OluniyiGates) December 15, 2019
First it was Lucifer, and now Gay Jesus.
Y'all mofos have forgotten he died for our Goddamn sins? Huhh? That nigga above us deserve more than just our respect😤

Netflix are going nuts aswear

— Kobby. Founda (@Founda_) December 15, 2019
Leverage social media to make more money and grow your brand in 2019! Attend The Social Media Wealth Masterclass with Isaac Click here to ENROL NOW!
Follow us on Instagram
|
Advertise With Us
|
Send Us News Tips
|
Promote Your Music