250,000 passports remained unclaimed at Nigeria Immigration Service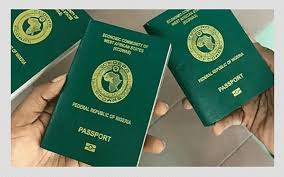 Nigerians are been urged by the Nigeria Immigration Service to always provide the right information about them when applying for passports. He said this in Abuja on Monday as inaccurate contact details has resulted to pileup of over 250,000 unclaimed passports in its various service centers nationwide. 
Minister of Interior, Rauf Aregebsola had earlier disclosed that there are at least 250,000 unclaimed passports at various Immigration offices nationwide.
The Minister who unveiled the enhanced electronic Passport facility of the Nigeria Immigration Service and the Enugu Passport Production Centre in Enugu State spoke on March 3, 2022 that, "It will interest you to know that between 2019 and now, the NIS has issued about 3 million passports to Nigerians. Last year alone, 1.3 million passports were issued.
"Also, last time I checked, over 250,000 passports remain uncollected by applicants. Their owners will probably be among those complaining they are yet to receive their passports. Nevertheless, many applicants are not going to have their passports because of the errors in their applications, which delay processing.
"They may not know because they applied through touts and other illegal channels. A major challenge of passport administration is the illegal patronage of touts and NIS officials, instead of the stipulated online platform."
During a media chat with Simbabi Baikie, the Comptroller of the state command, she mentioned that, "2,560 passports have not been collected, some dating back to 2019. Applicants come and apply but they don't come back to collect the passports."
The service Public Relations Officer, at the service headquarter in Abuja, Amos Okpo, lamented about the buildup of unclaimed passports nationwide, and noted that the service has mechanisms to contact Nigerians whose passports are ready for pick up but cannot reach them due to inaccurate or outdated contact details.
"Yes, we do have our challenges with stations that are not enhanced especially when we can't verify your National Identification Number. But for the most part, the bulk SMS we send out either bounces or when delivered, lands in a phone that does not belong to the owner.
"This is true because there are those who don't get the messages because some applicants did not fill the forms themselves. Therefore the notification sent is dropping in the mobile phone of a third party. Some give us incomplete phone numbers and our messages bounce.
Okpo said, "This is why we came up with two timelines; six weeks for fresh passports and three weeks for reissue. This is to enable us to verify all your information, especially the addresses and phone numbers."
He also noted that the disparity in the arrangement of names submitted during passport application and those registered on the National Identity Management Commission portal has led to a build-up of unverified details.
The spokesman explained, "There is also the issue of disparity in names. In our processing system, Buhari Muhammadu is not the same as Muhammadu Buhari. So when the enrollment officer is trying to enrol, it doesn't go.
"Nigerians need a lot of orientation on this. If you have a functioning email address, put it. If you have a phone number, put the correct digits and verify them before submitting. If your address is…put it as accurately as you can."