Over 25,000 Nigerians Held In Slave And Sex Camps In Libya in 2017 – NAPTIP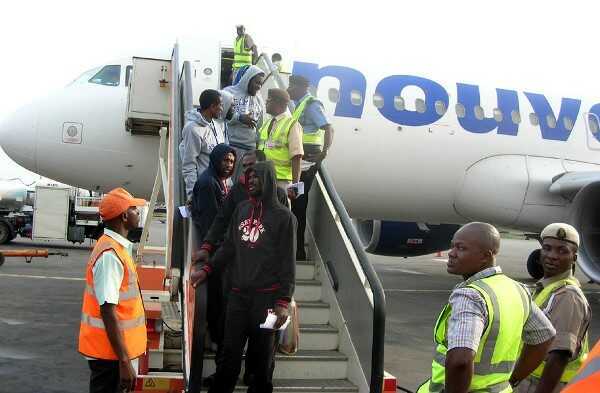 The Director General of the National Agency for the Prohibition of Trafficking in Persons, NAPTIP, Julie Okah-Donli, has disclosed that more than 25,000 Nigerians have been held in slave and sex camps in Libya.
Ms. Okah-Donli made this known while defending the agency's 2018 budget before the Senate Committee on Judiciary, Human Rights and Legal Matters on Tuesday.
She said of the figure,  about 5000 of the victims were repatriated within the period.
"A large number of Nigerians have also been returned from other countries in Europe and Africa.
"All these people need to be properly received, profiled and assisted.
"NAPTIP has been working in conjunction  with other governmental and non governmental agencies such as NEMA, International Organisation for Migration (IOM) and others to provide help to these unfortunate Nigerians,"she said.
She lamented that in spite of the evils of human trafficking, not so much attention was focused on the menace.
She said the recent trend which marked the resurgence of slave trade was more alarming and required the attention it deserved.
According to her, the task before the agency is  enormous while budgetary allocations have been comparatively low.
"It is my honour and privilege to raise a cry for help in this hallowed chamber on behalf of the most vulnerable members of the society, especially women and children.
"In recent months the odious and perverse consequences of human trafficking and irregular migration were forcefully brought to our television screens with gory tales,"she said.
She said if human trafficking was to be reduced or eliminated, massive public awareness as well as behavourial change campaigns must be sustained from the grassroots to the national level.
The NAPTIP boss further said many victims of trafficking needed to undergo skills acquisition training or formal education.
The NAPTIP boss, however, commended the federal government and other stakeholders for their support in the wake of recent slave trade of Africans.
"I wish to place on record my deep appreciation to President Muhammad Buhari for consistently putting the issue of human trafficking at the centre of global discourse at various international fora.
"In the aftermath of the recent crisis stemming from the inhuman treatment of  Nigerians in Libya and elsewhere, both the Presidency and National Assembly came out strongly with statements band actions to to strengthen national response to irregular migration," she said.(NAN)