2023: How Tinubu will destroy Nigeria if elected – Bode George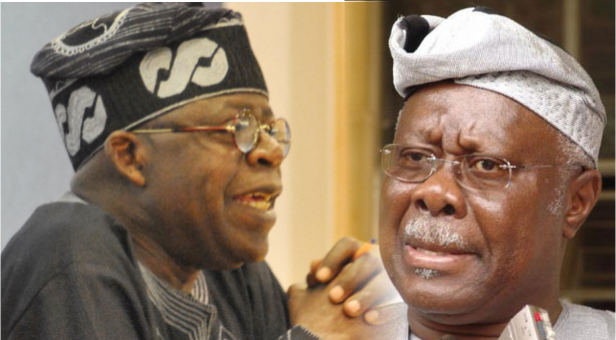 Former Deputy National Chairman of the Peoples Democratic Party, Bode George has condemned the presidential ambition of former Lagos State governor, Bola Tinubu, in the 2023 elections, Top Naija reports.
George, in a recent interview with Vanguard, cautioned Nigerians against voting Tinubu in the presidential elections, noting that the All Progressives Congress' national leader is undeserving of the position.
"If Nigerians are dumb enough not to see that and they choose that he is the one they want to put forward as president, I wish them the best of luck. I won't be part of it here, because he will take the country to the gutters," he said.
He admitted that Tinubu has the legitimate right to contest, but reiterated that Nigerians must be careful. "If you look at his (Tinubu's) past and all he has done, is he worth throwing tantrums all over the place? It is an insult to us," he added.
Asked if he has a hatred for the former governor, George said "I have some facts about this character. He ran my state (Lagos) since 1999, finished eight years of absolute nonsense. So, there is nothing personal but to be able to speak truth to power.
"So, we must continue that fight, our country must come out from the doldrums of filth and have people with confidence and character that are salable anywhere in the world and people loyal to this country. That is all," he added.
George also noted that he agreed with direct primaries because "We have done it in the past before, which is like Option A4".
"The President has agreed to electronic transmission of results but the other arm, direct primaries, which seeks to remove godfathers' control in political parties, is still not part of the guideline. Whatever it takes, whatever we will need to make democracy succeed, we must do," he said.
"I want to plead with Nigerians to be conscious because Nigeria is in a state of hopelessness and helplessness," he further said.
Similarly, Orji Kalu, a senator, and former Abia governor recently said the presidential aspiration of Tinubu was unreasonable and an idea "dead on arrival."
After several speculations, Tinubu formally declared his interest in the presidential seat after meeting with Buhari on Monday.
Tinubu has been widely perceived as the "Godfather of Lagos", leveraging his political capital in the mega city-state to influence regional and national affairs. His role in pulling the strings of the mega city-state was exposed in The Lion of Bourdillion, a 2015 documentary film highlighting Tinubu's political and financial grip on the city-state.
Tinubu filed a N150 billion libel suit against the producers, AIT, and the documentary stopped airing on 6 March 2015. Nonetheless, antecedents such as his overbearingness on successors such as in December 2009, when there were reports that Fashola and Tinubu had fallen out over the issue of Fashola's re-election in 2011, with Tinubu preferring the commissioner for environment, Muiz Banire.
And a similar scuffle in 2015, over Fashola's successor pitting Tinubu against him who threw his full weight behind Akinwunmi Ambode, who later succeeded Fashola and was himself single-handedly ousted from office by Tinubu replacing him with incumbent Babajide Sanwo-Olu, all goes to show his unprecedented influence in the city-state. During the 2019 election, a bullion van was seen entering Tinubu's residence on Bourdillion Road in Ikoyi, with Tinubu claiming "I keep money anywhere I want".
💃Pass WAEC, JAMB, POST-UTME & more in One Sitting for FREE!💯
How to JAPA to the UK easily [Free Application Templates]