2 weeks to complete housemanship, doctor loses life after falling from 10th floor on faulty elevator (Video)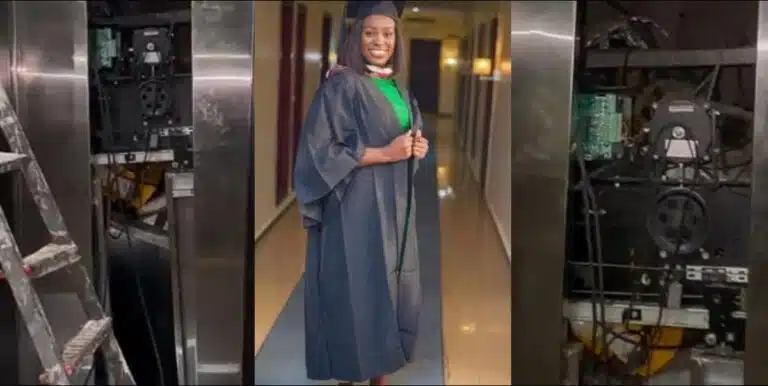 A sad and tragic event had befall a doctor, which led to her death just two weeks before she would have completer her housemanship in a hospital in Lagos state.
A young Nigerian doctor passed away few days ago as a result of poor management and negligence in the hospital. She was said to have fallen to her death in an elevator, from the 10th floor of the hospital to the ground.
A young lady, who happens to be the friend of the deceased, took to the microblogging platform,  Twitter to narrate the event;
"A doctor who had just 2 weeks to complete her housemanship just died in general hospital (Odan, Lagos island) due to poor management and negligence!!!"
"The elevator she was in, fell from 10th floor to the ground! Video was so painful to watch."
The lady's post included video clip evidence, showing the aftermath of the incidence to support her claims.
Concerned individuals who read her post and watched the video took to the comment page to air their views.
See some reactions below:
@tesh_ola: "Somebody or some people should be going to jail for things like thing. There's to much disregard for human life in this country. People will continue to cut corners as long as they know that there's no consequence for bad behaviour in Nigeria. May God rest her soul."
@afamsson: "This reminds of the elevator in NOUN former head office VI Lagos, maintenance culture was absent and it looks so scary, I had to use the staircase each time I visited my project supervisor. We lack a maintenance culture as a people, Government institutions are the worst. RIP"
@Real_jaeflex: "This is very sad. For the young woman who lost her life and the family who lost their daughter. I hope they get justice and everyone responsible for this brought to book."
@_Earnhardt: "There's a video a white guy was saying Nigeria lacks maintenance culture and this a typical example, I really hope the family will sue and collect every last penny. RIP"
@JojoDnc: "Let's remove government from this.. what was the hospital management doing???, in my sch we had elevator and the day it happened to be faulty they wrote on the door out of bound and even put security at the door until they was revenue to repair it!! Negligence is your problem."
WATCH THE VIDEO BELOW:
Particularly aggrieved because we've complained for a long time about this elevator. We've maneuvered, managed and prayed each time we had to use it. Empty promises will be made to fix it….till it killed one of us💔💔💔💔💔💔😭 https://t.co/nFo3LrioFY pic.twitter.com/xHjSKnXdjN

— Olanrewaju Aiyepola (@kristeana08) August 1, 2023