14-year-old housemaid Captured Over Professor's Murder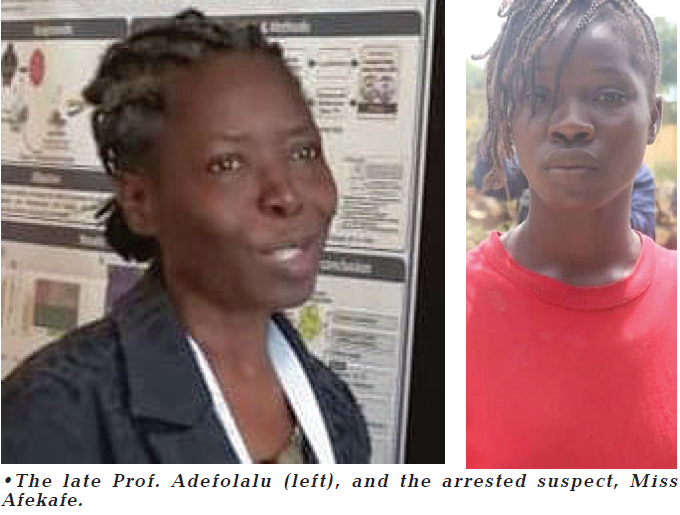 Niger State Police Command has arrested a 14-year-old female housemaid, Joy Afekafe, in connection with the murder of Associate Professor Funmilola Adefolalu of the Federal University of Technology, FUT, Minna, Niger State.
She was arrested on Monday in the Gbeganu area of Minna, the state capital, after Police preliminary investigations.
A statement by the Police Public Relations Officer, PPRO, of Niger State Police Command, Wasiu Abiodun, yesterday, said the suspect had confessed to have connived with two other male friends to carry out the murder.
The statement said: "During interrogation, the suspect confessed that she served as the deceased's housemaid for about three weeks, but was laid off due to her misdeed in the house.
"She said after she was laid off, she met her classmates called Walex and Smart, narrated her ordeal to them and conspired to attack the lecturer at her residence.
"They went to the residence on 28/10/2023 at 1600hrs, with a motorcycle and she surfaced at the gate while the lecturer opened the gate for her.
"Walex and Smart later entered, beat the deceased, hit her head with a stood and stabbed her with a knife brought by Walex while Smart took another knife from the kitchen and stabbed her several times," the statement added.
Abiodun said the suspect added that the phone of the deceased and laptop were taken away while they also removed the battery of the vehicle parked in the compound and fled the scene.He said the suspect would be transferred to SCID for further investigation and diligent prosecution while effort was ongoing to arrest the fleeing other suspectsIt will be recalled that last Sunday, Prof. Adefolalu, a lecturer at FUT Minna was found murdered at her residence in Gbaiko Area of Minna, the state capital.
Her colleagues who did not see her in the church had visited her residence to inquire why she failed to come for church and had to force her door open and met her remains in her pool of blood with two knives with blood stains by her side while the corpse was deposited at the IBB Specialist Hospital, Minna.